Living Democracy in Adelaide, Brisbane, Melbourne And Online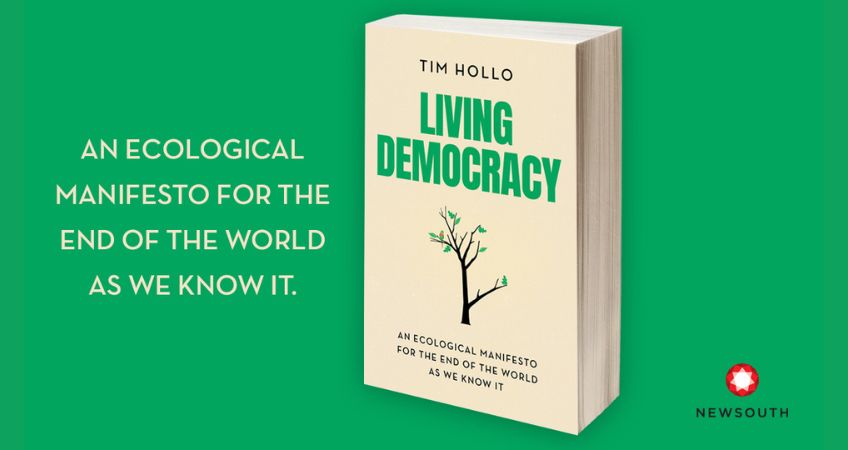 The busy times continue, with fabulous conversations all around the place about Living Democracy.
I just spent the day at the ACT Conservation Council's symposium on the Circular Economy where people from NGOs, government, business and academia were buzzing around ways of reinventing the economy, and what's being done on the ground. I started the day pitching the overarching ideas from the chapter on the economy, 'From extraction to cultivation'. My fellow panellist, Katherine Trebeck from the Centre for Policy Development, and I also recorded a podcast last night for ANU Crawford School's Policy Pod that will be out tomorrow. And the weekend just passed saw two launches of the book down the NSW south coast, with great crowds in Tathra and Cobargo.
We've got four more events that I'd love you to join us at, and help us spread the word for, in the days and weeks ahead.
This Sunday, September 18, I'm heading to Adelaide to launch the book with Senator Barbara Pocock and Associate Professor Peter Burdon at the Lady Daly, MC'd by the Green Institute's own Rebecca Galdies.
The Institute hasn't done a lot in Adelaide, and I'd love to reach a big crowd with this wonderful panel, so please do come along if you're in town, and pass the word around to anyone you know there!
You can register here.
Then, next Wednesday, September 21, I'm delighted to be a doing a webinar on the book as part of Earth Laws Month with the Australian Earth Laws Alliance's wonderful Dr Michelle Maloney, who many of you will remember from our ecocide webinar and much more.
You can register for this one here to watch from the comfort of your bedroom.
The following Sunday, September 25, I'll be up in Meanjin / Brisbane, launching Living Democracy at the Food Connect Shed with the brilliant Dr Amanda Cahill, whose work features throughout the book, as well as the irrepressible Councillor Jonathon Sriranganathan. This is going to be a conversation not to be missed if you're anywhere nearby! Please come along and register here.
And finally, yes, Melbourne, we'll be there in a few weeks, on Thursday, October 20, at Small Time in Brunswick, with our fabulous national leader, Adam Bandt, and superb young activist and co-founder of the Tomorrow Movement, Cat Nadel. Details and registration for that one are here.
In other news, thank you to everyone who's asked, yes, the audiobook is happening, and yes, I'll be reading it. It'll take a while, but it's coming. In the meantime, you can still buy the book direct from us here to help The Green Institute do our work!
And, as many have told me, one of my panels at the Byron Bay Writers Festival, with Paul Barclay, Marian Wilkinson, and Jeff Sparrow was broadcast on ABC Radio National's Big Ideas last night. You can listen back here.
Cheers,
Tim