Living Democracy: Brisbane Book Launch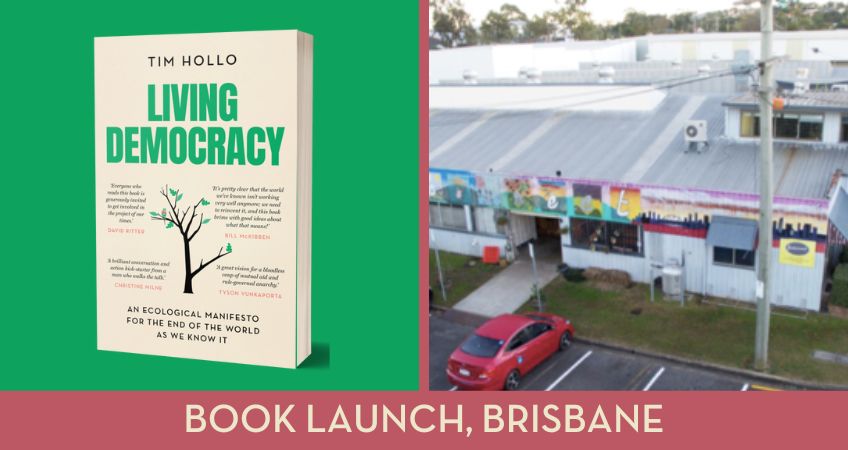 Hosted by the Food Connect Foundation
3.30pm for a 4pm start
Sunday 25 September, 2022
Food Connect Shed
8 Textile Crescent, Salisbury, Queensland
Living Democracy: An ecological manifesto for the end of the world as we know it, is the new book from Tim Hollo, Executive Director of The Green Institute.
Join Emma-Kate Rose in conversation with Tim to discuss the fact that while yes, the world looks bleak, what if the solutions to our ecological, social and political crises could all be found in the same approach? What if it was possible for us to not just survive, but thrive?
Tim offers bold ideas and a positive vision. It's the end of the world as we know it, but it doesn't have to be the end of the world. In fact, around the globe, people and communities are beginning an exciting new journey.
The book will inspire you. But before it does, come and be inspired by Tim himself.
Tim will be joined in conversation by local Greens councillor Jonathan Sriranganathan and Dr Amanda Cahill, CEO of The Next Economy.
A highly regarded environmentalist, community builder and musician, Tim Hollo is Executive Director of the Green Institute, where he leads research and discussions around issues such as ecological politics, deep democracy, rights of nature, and Universal Basic Income. He is the founder of Green Music Australia, has been a visiting fellow at the ANU's RegNet, was previously Communications Director for Greens Leader Christine Milne, and has been a board member and campaigner at Greenpeace Australia Pacific.
With his band, FourPlay String Quartet, he has recorded 7 albums and toured nationally and globally, from Woodford Folk Festival to New York's Carnegie Hall.
Living in Canberra with his partner and two kids, Tim established the city's flourishing Buy Nothing Groups, set up a little library, and spearheaded a campaign to keep billboard advertising out of Canberra. He has run for election as the Greens candidate for Canberra.
Tim's writing has been widely published, including in The Griffith Review, Meanjin, ABC, Crikey, The Canberra Times and The Age. Living Democracy: an ecological manifesto for the end of the world as we know it is Tim's first book.
You will be able to purchase the book on the day, or pre-order here: https://www.greeninstitute.org.au/pre-order-book-offer/
The Food Connect Shed has disability parking, accessible ramps, and accessible bathrooms. If you have other accessibility requirements, please let us know.
Refreshments will be available for purchase at the bar.