Green Institute Conference 2023
Meanjin / Brisbane and online, Aug 18/19, Griffith University, South Bank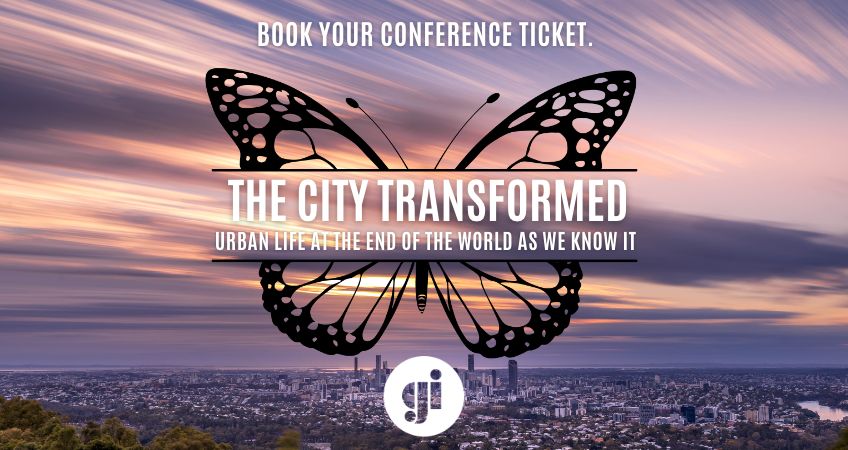 If you are tuning in online and have registered yet haven't received your Zoom link please text Elissa on 0418 786 986 with your email address and the Zoom link will be emailed to you.
The City Transformed: Urban life at the end of the world as we know it – Green Institute Conference 2023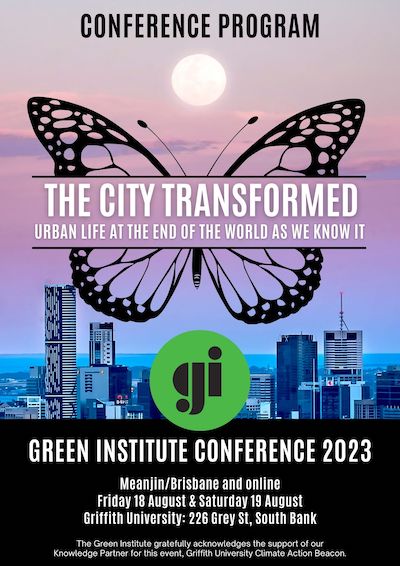 Here at the end of the world as we know it, in the teeth of intersecting ecological, economic, social and political crises, our cities are being transformed by communities, corporations and governments in ways which will either worsen the crises or enable us to survive and thrive.
The Green Institute's 2023 national conference will present keynote speeches, panels and workshops from activists, advocates, academics and change-makers of all kinds, sharing ideas, making connections, and planning the green transformation of our cities.
Download or view the printable Green Institute Conference Program PDF.
Home to half of humanity as well as countless other species, cities are complex ecosystems of many kinds, from ghettoised, car-based wastelands and food deserts to interconnected homes of social cohesion and urban ecology. Today, they are changing rapidly, both for better and for worse. As the climate destabilises and old certainties collapse, these changes will accelerate.
Our word "politics" comes from the Ancient Greek polis – city-state. And from ancient Athens to Occupy Wall Street, the Paris Commune to the Zone À Défendre, Brisbane's Greenslide to Sydney's teal wave, participatory budgeting to pandemic mutual aid and alternatives to policing, cities have always been a key site for collective innovation, exploration and reorganisation.
It's this spirit of reorganisation that we need to harness at this pivotal point in history.
We must transform our cities. And our cities must be sites of transformation for us and our politics. How are Greens and others negotiating and shaping this crucial urban transformation? What are we doing well? What do we need to do better? With the seeds of change all around us, what do we need to do to take them from alternatives around the margins and draw them together as radical, transformative system change?
Our keynote speakers are Dr Mary Graham, Dr Michelle Maloney, Professor Susan Harris Rimmer and Professor David Schlosberg.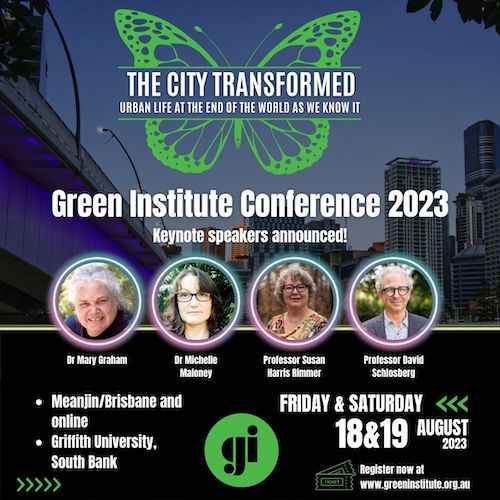 Our Conference Program is now available as is our extraordinary Speaker List of 57 speakers. Tickets are limited so please book your conference ticket early to avoid disappointment. Online tickets are also available, ideal for those who reside outside of South-East Queensland.
The Green Institute gratefully acknowledges the support of our Knowledge Partner for this event, Griffith University Climate Action Beacon.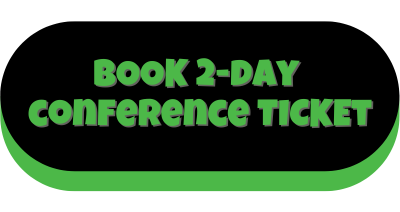 Meals
Morning tea, lunch and afternoon tea is included on both days, provided by the wonderful Three Little Birds. Please advise of any dietary requirements via email to jane.tate@greeninstitute.org.au.
Health and Safety
We will be asking all attendees to consider masking while inside spaces and not speaking. In addition, hand sanitiser will be available, and we will ask everyone to use it, especially around food.
If you are unwell with cold or flu symptoms, we will refund your ticket.
The venue is broadly accessible. Please advise of any specific accessibility requirements via email to jane.tate@greeninstitute.org.au and we will do our utmost to accommodate them.
Single Day Attendance
While the option is there to attend for one day, there is no set price to purchase for one day as the three tier options provided accommodate for a range of pricing options.
If you would like to attend for one day and prefer not to select the $295 or $195 ticket option, there is also a $95 supported delegate option available. An additional donation is also welcome if you're uncomfortable paying only the supported delegate option. For catering purposes, please email jane.tate@greeninstitute.org.au to advise which day you'll be attending.
Purchase a ticket and make a donation.
Online Attendance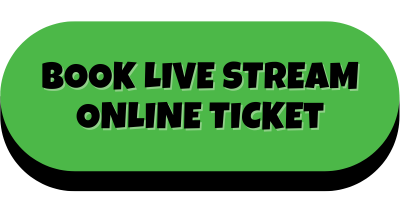 Online tickets are available for the Plenary Room program stream only. You can book a ticket for Friday or Saturday or for both days. Book for the online streaming event.
Details:
Friday 17 August, 9am – 5pm
Saturday 18 August, 9am – 5pm
Plenary Room stream only, online via Zoom
Location
South Bank campus, Griffith University, 226 Grey St, South Bank. Registration room details TBA. Campus map below and here. South Bank mobility map available here.
Plenary Room: S05_2.04 QCA Lecture Theatre & Gallery
Panel Room: S07_1.23, Griffith Graduate Centre 1st (ground floor)
Workshop Room: S07_2.16/2.18, Griffith Graduate Centre (2nd floor)
Friday Night Function: S02_7.16/7.07 (7th floor)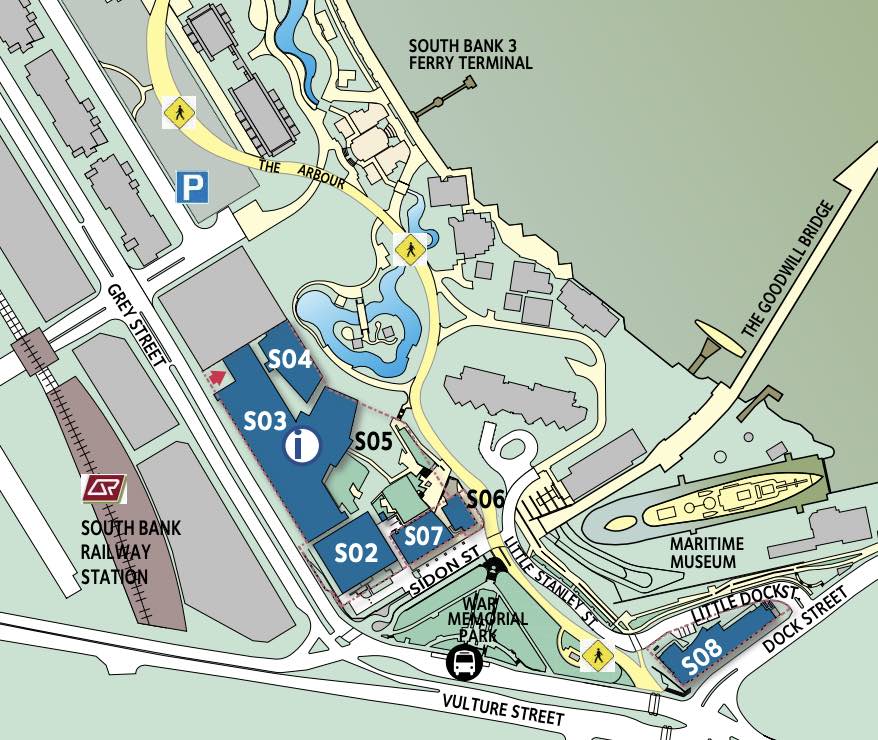 Accommodation
Budget: Summer House Backpackers Brisbane, City Backpackers HQ
Standard: Riverside Hotel, Novotel Brisbane South Bank Hotel, Menso at South Bank, Turbot House Hotel.
Please note it is the weekend of the Brisbane Ekka, so we recommend booking accommodation early.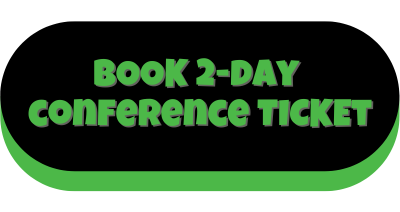 Brisbane Transformed: More-than-human responses to Meeanjin's future
There is also a Community Symposium hosted by the QUT More-than-Human Futures research group being held in conjunction with the Green Institute Conference.
This one-day symposium brings together local community members, academics, and politicians to discuss and explore pressing issues affecting Brisbane's future.
Tickets to the Green Institute Conference 2023 are available below. Tickets to Sunday's Community Symposium are available via QUT.
Tickets now available. Register below.
Please advise of any dietary requirements via email to jane.tate@greeninstitute.org.au.