Conference Program: The City Transformed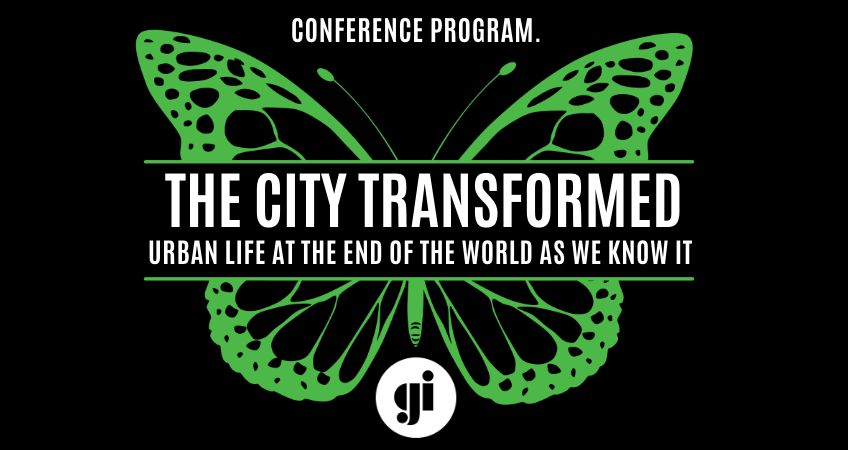 The City Transformed: Urban life at the end of the world as we know it – Green Institute Conference 2023 – Program
Download or view the printable Green Institute Conference Program PDF.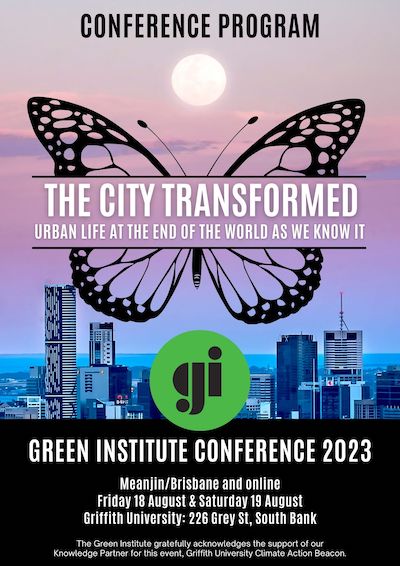 Friday Program – Day 1, August 18
TIME
PLENARY ROOM
PANEL ROOM
WORKSHOP ROOM
9am
Welcome to country
9.15am
Day 1 Opening Plenary
Tim Hollo opening address
Keynote: Mary Graham and Michelle Maloney – "Aboriginal relationality and the city"
Mundanara Bayles and Birdy Bird – "The Land Back"
10.45am
Morning tea
11.15am
A Caring City: energy, arts and 3rd spaces
"Transforming Energy Systems: caring beyond the local", with Dr Kat Lucas-Healey and Dr Wendy Russell
"Trust Builds Better Third Spaces", with Michael Bromage
"Place-based Arts for more equitable cities", with Professor Brydie-Leigh Bartleet
"More than bikes: active travel reinvigorating our cities", with Dr Simon Copland, Trina Massey, Abraham O'Neill, Nina Ginsberg
"Participatory governance: What has to change in order to democratise decision-making about our city's future?", with Jonno Sriranganathan
12.45pm
Lunch
1.30pm
A Caring City: from problem to solution "Engaging youth as community partners, not community's problem", with Wendy Aghdam
"Reimagining Care: new starting points for policy reform", with Kelly Saunders
Affordable and Livable Cities are possible!
"How Cities Can Radically Increase Public And Affordable Housing", with Clr Sylvie Ellsmore, Deputy Mayor of Sydney
"Paved Paradise and Put Up Apartment Blocks – music venues and housing", with Mitch Alexander
"Strengthening Australian Democracy by Building Multicultural Community Resilience and Capacity", with Apsara Sabaratnam, Tharini Apolline Rouwette and Andrew Braddock
2.30pm
Afternoon tea
2.45pm
Urban / suburban / post-urban futures
"Perth 2.0", with Brad Pettit MLC
"Are Large Cities Viable Without Fossil Fuels: an alternative urbanism", with Terry Leahy
"The Suburb and the Far Right", with Dr Simon Copland
"The systemic challenges of urban agriculture", with Robert Pekin (Food Connect), Kara Pulou (Kuppibunda Kitchen), and Geoff Ebbs (Griffith University)
"Imagining Transformed Cities", wiith Dr Ed Morgan, Dr Natalie Osborne, Andrew Buckwell, Jonathan Sriranganathan, Dr Ross Westoby and Dr Samid Suliman
4.15pm
Changeover Break (tea and coffee available)
4.30pm
Closing Day 1 Plenary
Keynote: Prof Susan Harris Rimmer – "Cruel Summer: Extreme Heat and Human Rights in Australian Cities"
Introduction & Facilitation by Emma Bacon, Sweltering Cities
5.30pm
Day 1 sessions close and dinner break
7pm
Evening fundraising event
MC Mandy Nolan
Special guests Michael Berkman, Rebecca Vassarotti and Stephen Bates will discuss "Getting past NIMBY vs YIMBY"!
Entry included with your ticket – drinks to be paid for to help raise funds
Saturday Program – Day 2, August 19
TIME
PLENARY ROOM
PANEL ROOM
WORKSHOP ROOM
9am
Day 2 Opening Plenary
Keynote: Prof David Schlosberg – "Sustainable Materialism as politics"
Protest and the city panel – Senator Larissa Waters, David Mejia-Canales, Violet Coco
10.45am
Morning Tea / housing protest with Max Chandler-Mather at ALP National Conference nearby
11.15am
Democratic transformation through crisis
"Campaign Strategy for Transformative Democracy", with A/Prof Mark Diesendorf
"Democratic transformation and urban re-imagination during periods of political crisis: Experimenting with a protest "village" in Colombo (Sri Lanka)", with Dr Rajni Gamage and Anna Carlson
"Community Recovery from Covid: regenerative governing", with Minister Emma Davidson, MLA
The road to better transport
"The Better Buses Campaign", with Elyse Cunningham (FoE)
"The Climate Council's Path to Better Transport", with Hollie Cheung
"Resistance shows us how to get people out of the car and onto the street for active transport", with Gill King.
"Consensus in the city – a workshop on managing difficult politics", with Senator Janet Rice
12.45pm
Lunch
1.15pm
Urban farming as transformation
"Creating Food Resilient Neighbourhoods", with Gabriel Reese
"What's Next in Urban Farming", with Fiona Buining
"Agrihood and the #growfoodathome movement", with Thiago Barbosa
Urban ecosystems: Blurring the city / nature boundary
"Nature in the City", with Minister Rebecca Vassarotti, MLA
"Multi-species Justice in Brisbane", with Hira Sheikh
"Inviting Nature to Dinner: the benefits of bringing biodiversity to our backyards", with Helen Schwencke
"Embodied water: giving nature a voice in cities", with Marci Webster Mannison
2.45pm
Afternoon tea
3pm
Beating the Heat: Community action for cool cities
with Emma Bacon (Sweltering Cities), Holstein Wong and Ryan McNeilly Smith
"Digital inclusion and housing justice", with Prof Marcus Foth and Kim Osman
4pm
Changeover Break (tea and coffee available)
4.15pm
Closing Plenary – feedback, discussion and commitments, thank yous
5pm
END
Download or view the Green Institute Conference Program PDF.
Please advise of any dietary requirements via email to jane.tate@greeninstitute.org.au.