Everything Is Connected: Green Agenda Debate – "What Even Is Democracy?"
This stimulating debate and discussion session challenged us to consider deeply what democracy is and can be. Panel members were: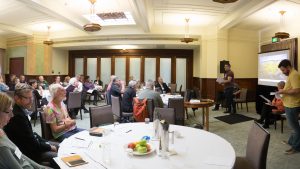 Clare Ozich
Clare Ozich is the founder and co-editor of Green Agenda, an online political publication exploring green politics. She has worked as a lawyer, an industrial officer in the union movement, and as Director of Policy for Greens leaders Bob Brown and Christine Milne. She is currently the Executive Director of the Australian Institute of Employment Rights.
Stephen Healy
Stephen Healy is a senior Research Fellow at the Institute for Culture and Society, University of Western Sydney
and a recent arrival to Australia. He has a Doctorate in Geography and his research focuses on community-based approaches to sustainable economic development.
Joan Staples
Joan Staples is a Melbourne-based political scientist focusing on civil society and NGOs, especially environmental NGOs, and their role in democracy. Her career has been in policy and advocacy working with national NGOs involved in campaigns all over Australia and she played a strong role in the formative years of the Greens.
Simon Copland
Simon is a freelance writer and climate cam- paigner. He worked for and was an active volunteer for the Greens between 2007 – 2012 and recently worked for the climate organisation 350.org. He is co-editor of Green Agenda.
Listen to the panel session here: