What comes after a Greenslide?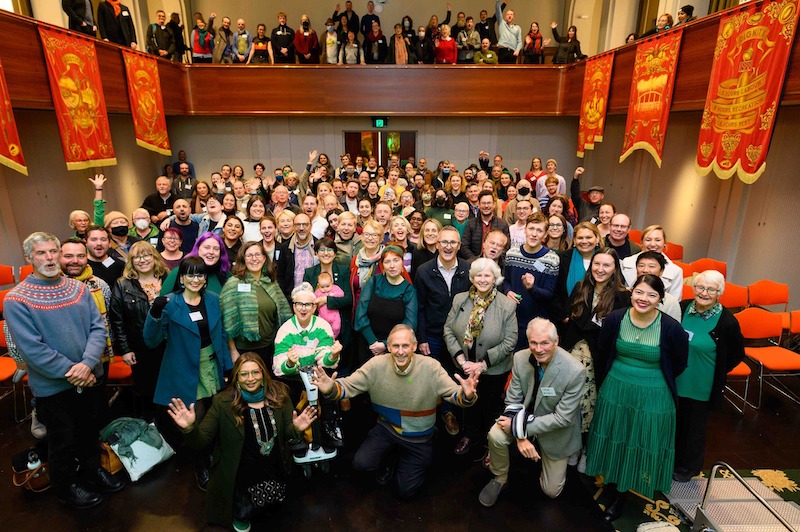 What an extraordinary result!
Last month's election, wiping out the ecocidal Morrison government and delivering a remarkable 16 Greens MPs as part of a historic blow to the two party system, is an incredible moment in Australian political history, as well as a pivotal one for our party and movement.
With tremendous grassroots campaigning, excellent leadership across the party, and our boldest, most exciting policy platform to date, the Greens have been central to reshaping the political map.
Congratulations and thanks to everyone who has been part of it.
It's been delightful and gratifying how many people have noted the role the Green Institute played in helping deliver this result – through our advocacy and campaigning that helped create the Liveable Income Guarantee, in our work around deepening community mobilisation into participatory community building, by supporting the Serious Danger podcast, through deep conversations in Green Agenda, and more. It's also been wonderful how many people have been pressing us on how we plan to contribute now.
Because the question we need to be asking is: what comes after a Greenslide?
And that's exactly the kind of question the Green Institute was set up to ask. It's the type of conversation we exist to facilitate. And it's why we need your financial support now.
Please give generously to our mid year EOFY appeal.
Just $50 will help us buy one goat for a new Greens MP!
Sorry, I'm still a little off kilter. After smashing the Liberals into minor party status in the ACT and making Canberra a Labor/Green seat, I got knocked sideways by Covid 36 hours after returning to my job at the Institute. I'm only just emerging from the fog.
But I'm emerging with great excitement about the months ahead. In the next few days, you'll see the first edition of Green Agenda edited by the excellent Carlos Morreo, with an array of reflections on the election.
And shortly after that, we'll open pre-orders for my book, Living Democracy: an ecological manifesto for the end of the world as we know it, which will be out in about 6 weeks! I'm hugely looking forward to travelling around the country to talk with you all about the book's ideas, think deeply about who we are and want to be as a party and movement, and make big plans for the years following the Greenslide!
Speak with you soon, Tim
PS: Remember, everything we do here at the Institute is done by a tiny team of three part-time staff. A $250 donation will dig a well of ideas! Please give generously.