"Conversation Starters" To Help Design A UBI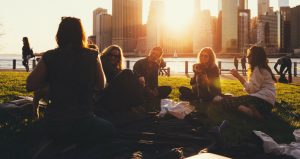 In the eighteen months since we kicked off a discussion about Universal Basic Income with our paper, Can Less Work Be More Fair?, the conversation has grown tremendously, with so much interest from around the Greens and beyond. Now it's time for the next step.
Up to now, we've been talking in general terms about the kinds of changes UBI might bring to our society, and the challenges we currently face that make it worth considering. But, as the discussion has broadened, it's become clear that people are keen to get their teeth into the nitty gritty: what might a UBI look like, and how can we get there? What needs to be kept and what can be replaced if we move to UBI? What kind of supportive and parallel policies will be needed?
This is a conversation that we need to have together. It's grappling with some really big questions about how our society is structured, what we consider to be important, and what we prioritise. It's a great place to show how big policy change can be driven by grassroots conversations!
So we've put together three "Conversation Starter" papers on UBI, look at the "What and Why", the "How and How Much", and the "How To" of Universal Basic Income. With bits of information, and links to explore further, they set out discussion points to guide conversations, such as "What policies, services and payments are most important to work with a UBI?", "What kind of society would be fostered by a Job Guarantee as opposed to a UBI?", "Is a trial worth the risks?", "What co-benefits would a Youth Basic Income bring?", and "What supportive policies would be required to enable people to manage?"
While these conversation starters are meant to frame questions and guide discussion rather than answer questions, one thing we hope they make absolutely clear is that a Greens vision of UBI is completely opposite to treating it as a silver bullet. Ecological Democracy is all about embracing and understanding complexity and interconnection, so any policy has to be seen in context, and UBI prime amongst them.
It must be seen going hand in hand with substantial increases in the progressive taxation system; it must be placed next to a suite of policies to deal with housing affordability and fairer industrial relations policies; and it must treated as part of a much larger push for universalism, supporting rather than competing with ever better investment in universal public health and education.
There's a lot for discussion here! We hope you find these papers useful! Please get in touch if there are other questions you feel would benefit from this kind of treatment. And please let us know how your conversations go! Feed any ideas back to us so we can pass them on!
Download: