Everything Is Connected: The "Truth" And Politics
This excellent and thought-provoking panel ranged from questions of "post-truth" politics and deliberate obscuring of the truth through to how to positively use values to shift opinions when facts do not. Panel members were: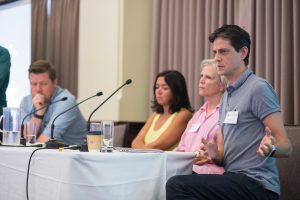 Dr Rod Lamberts
Dr Rod Lamberts is deputy director of the Australian National Centre for Public Awareness of Science (CPAS) at the ANU. He is also a former national president of the Australian Science Communicators. Rod has been providing science communication consultation and evaluation ad- vice for nearly 20 years to organisations includ- ing UNESCO and the CSIRO.
Dr Benedetta Brevini
Dr Benedetta Brevini is a journalist, media activist and Senior Lecturer at the University of Sydney. She is the author of Public Service Broadcasting Online (2013), editor of Beyond Wikileaks (2013) and Carbon Capitalism and Communication: Confronting Climate Crisis (2017).
Julie Macken
Julie Macken is a former senior journalist with The Australian Financial Review, former head of legacy media Greenpeace Australia and worked on the Greens 2015 NSW State election cam- paign and with Jim Casey for the seat of Grayn- dler in the 2016 Federal election. She is currently doing a PhD at the Institute for Social Justice.
Mark Chenery
Mark has worked in a variety of communications, campaigns and leadership roles. In 2012, while heading up ActionAid Australia's Community En- gagement team, Mark co-founded the Common Cause Australia network and has since trained over a thousand non-profit staff and volunteers in values-based community engagement.
Chair: Chris Twomey
Listen to the session here: