Everything Is Connected: Racism And Prejudice
This was a deeply moving and powerful panel session entitled "Systemic approaches to racism and prejudice". Panel members were: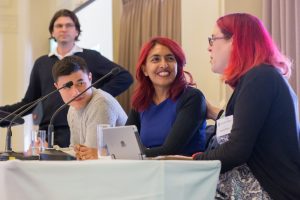 Lidia Thorpe:
Lidia is a Gunnai-Gunditjmara woman who [was at the time] the Greens candidate in the by-election for the Victorian state seat of Northcote [and is now sitting member for Northcote]. She is also Managing Director of a sustainable housing and renewable energy business.
[Lidia joined by Skype]
Tim Lo Surdo:
Tim is the founder and National Director of Democracy in Colour. He works at United Voice as a Senior Organiser. Previously, Tim was the Head of Campaigns at Oaktree, has been an adviser to two Greens Senators, directed national campaigns for an advocacy organisation in India and much more.
Rosanne Bersten:
Rosanne Bersten is a Jewish queer communicator and campaigner with Asperger's and ADHD. They were National Communications Coordinator of the Australian Greens from 2013 to 2017 and have written for Fairfax, Amnesty International, Greenpeace and the International Federation of Journalists.
Rachael Jacobs:
Dr Rachael Jacobs is a lecturer in Creative Arts Education at Western Sydney University. Rachael is a community activist, a freelance writer, practicing dancer and choreographer. She is also an organising committee member of the community group, Teachers for Refugees and runs her own intercultural dance company.
[Larissa Baldwin, founder and director of Seed Indigenous Youth Climate Movement, was unable to attend due to a flight cancellation]
Chair: Tim Hollo
Listen to the session here: