The End of Coal: How Should the Next Government Respond?
The End of Coal
Coal, for decades one of the "certainties" of Australian politics, is in terminal decline.
This economic, environmental and geopolitical fact is now beyond dispute.
Whoever wins the coming Federal Election will have no choice but to deal with the beginning of the end of coal, with power stations and mines closing and companies walking away or going bankrupt. Yet the issue is barely on the political agenda.
This collated paper is an attempt to bring the issue to the attention of our politics, and pose a series of key questions that arise from it:
How should governments respond to coal's rapid and terminal decline? How fast will it happen, and should it be held back or accelerated? How should the decline be managed? Who should pay to support workers left behind? And who should pay for rehabilitation of mine sites and power stations?
When it comes down to it, will governments and corporations act to protect people and the planet, or will they try to extract the last drops of profit from coal before it is left it behind?
The case set out in the following papers is not only that change is coming, but also that, if we embrace and accelerate that change, it brings with it tremendous opportunities to build a better, fairer democracy, economy and society.
Read:
Full paper: The End of Coal: How Should the Next Government Respond?
Renew Economy opinion piece: How did we get here?
Newcastle Herald opinion piece: How coal communities can lead the next big step
Interview on ABC Radio's The World Today
Share: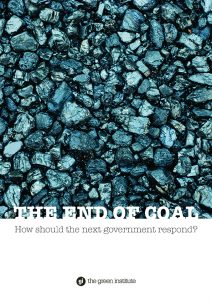 Photo Source: 'Coal' by Bart Bernardes from Flickr.