How to Blow Up a Pipeline (Q&A Screening)
PRESENTED IN PARTNERSHIP WITH ANU LAW REFORM AND SOCIAL JUSTICE – FOLLOWED BY PANEL DISCUSSION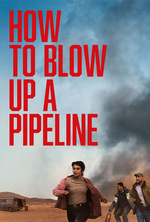 Exasperated and out of options, a group of eight environmental activists plan an act of sabotage to stop a pipeline in West Texas, which could disrupt the global oil supply. Are they willing to risk everything for their cause?
With the climate crisis at a dangerous point of no return, a group of eight exasperated environmental activists come up with a daring plan to make their voices heard. They will sabotage a crucial pipeline in West Texas and disrupt the global oil supply. Are they willing to risk everything for their cause?
Loosely inspired by Andreas Malm's radical eco-activist manifesto of the same name, this is a tense, tightly plotted – and timely – heist thriller with a twist: the criminals are the good guys. Through various flashbacks, we get to know the young protagonists, each with their own very personal stake in the mission. It's an act of self-defence, they clarify, and it's hard not to sympathise.
The screening will be followed by a panel discussion furthering the themes explored in the film. We will be joined by:
• Annika Reynolds
Annika Reynolds is the CEO and founder of GreenLaw, a young person-led climate justice research and advocacy group empowering the next generation of lawyers to tackle the climate crisis in partnership with universities, NGOs and the private sector. Their advocacy extends to queer empowerment, environmental human rights, rights of nature and Australia's energy transition more broadly.
• Ben Yates
Ben Yates is a fifth year LLB/BA student and is President of the ANU Students' Association. He is a keen environmentalist and was a co-convenor of the ANU Environment Collective where he co-organised a student referendum on divestment from fossil fuels. He has a strong interest in student safety, particularly regarding the welfare and interests of residential halls.
• Tim Hollo
Tim Hollo is Executive Director of the Green Institute, where he leads thinking around ecological political philosophy and practice, and drives policy discussion around Rights of Nature, Universal Basic Income and participatory democracy. He is also a musician, environmentalist, community activist, and a visiting fellow at The Australian National University's RegNet.