Democracy Is Not A Spectator Sport Interactive Panel: Deepening Democracy For The Climate Emergency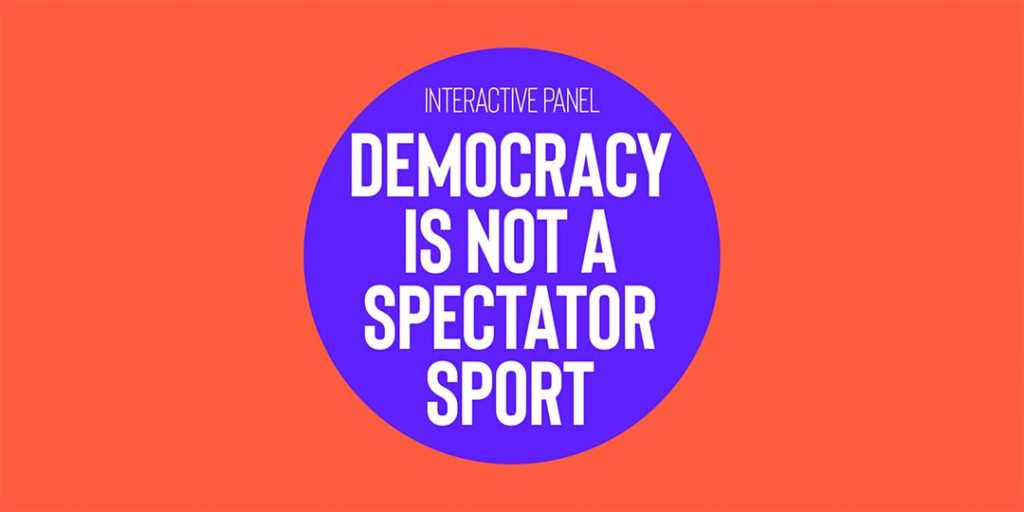 In the midst of our climate emergency this interactive panel will talk boldly on why a healthy democracy matters, the key signs that tell us we need to improve our democracy, and big and tangible ideas that will deepen democracy so we can catapult ahead, together.
1% of ticket sales pays the rent on stolen land.
This event will take place at the Trades Hall in Carlton, Melbourne, Victoria.
Speakers
Lidia Thorpe
A Gunai and Gunditjmara woman from the south-east and western districts of Victoria, Lidia has experience in Aboriginal health, Aboriginal funeral services, children's services and managing her own business in event management and consulting, in November 2017 Lidia became the first Indigenous women elected to the Victorian Parliament. When she stood in the Victorian House of Assembly to deliver her maiden speech she became the first Aboriginal and Torres Strait Islander woman to do so in the building's 161-year history.
Adam Jacoby
Adam is a serial innovator with a twenty year global history of leading fast growth businesses in sport, information and media. With deep expertise in fast growth business development, Adam was the CEO of BRW's 2010 Fastest Growing Private Company (under $100M), Sportsnet Corporation and has started awarded businesses including; a 2013 finalist in the Anthill Cool Company Awards (global category), #40 BRW Fast Starter 2015 and Top 10 in Smart Company's Smart50 Awards 2015.
Adam is the Founder and Chief Steward of Global democracy movement MiVote which was a finalist in the 2016 Singularity University Grand Global Challenge Awards and featured in the book Democracy Squared and is considered a global expert in the area of democracy and social innovation. Adam has spoken at numerous Universities and Conferences around the world including the 2017 & 2019 Codex World's Top 50 Innovators Conference (London), 2017 World Economic Forum (Davos), March for Our Lives Rally (Houston), Stanford University and will speak in March at the Horasis Global meeting with numerous Heads of State in Portugal. Adam has featured in more than 100 media stories about democracy, innovation and leadership on four continents.
Adam is the the Non-Executive Chairman of public company eSports Mogul Asia Pacific (ASX:ESH) and was a Young Australian of the Year Victorian Finalist (Career Achievement Category).
Iain Walker
Iain is Executive Director of the newDemocracy Foundation (nDF) in Australia, a role he has held since 2011.
Iain has led over 20 trial projects at local government and state government level including projects for State Premiers on both sides of politics. The topics have ranged from long-term budgeting for the $4bn City of Melbourne Financial Plan to the potential for a high-level nuclear waste storage facility in South Australia. In the water industry, nDF designed the 2017 Citizens' Jury process for Yarra Valley Water.
Tim Hollo
Tim Hollo is Executive Director of the Green Institute, and is currently a Visiting Fellow at RegNet, the Australian National University's School of Regulation and Global Governance. A highly respected environmentalist and musician, he is founder of Green Music Australia, an organisation working to reduce the environmental impact of the music scene and use its growing leadership to drive deep social and cultural change. The organisation brings together his environmental activism with his experience as a musician, having recorded 7 albums and toured nationally and globally, from the National Folk Festival to New York's Carnegie Hall with his band, FourPlay String Quartet.
Tim was the Greens candidate for the seat of Canberra at the 2019 Federal election. Previously he was Communications Director for Greens Leader Christine Milne, has been both a board member and campaigner at Greenpeace Australia Pacific, and has worked for 350, Lock the Gate and others. His writing on environmental, social and political issues has been widely published, including at the Griffith Review, the Guardian, ABC, Huffington Post, and Crikey, as well as Green Institute monographs, discussion papers and blogs.
Sonia Randhawa
Dr Sonia Randhawa is a founder of the Coalition of Everyone, an organisation with the vision of disrupting the politics of despair and building a politics of hope through participatory, deliberative democratic initiatives. Within the Coalition, she focuses on Citizens' Assemblies, building capacity for deepening democracy through working with local councils, schools and other organisations to increase awareness of Citizens' Assemblies. She now spends her time talking with local groups, running mock Citizens' Assemblies and integrating randomised deliberative democracy into organisations or businesses. Previously she has worked on media democratisation, freedom of information and media freedom in her birth country, Malaysia, as an award-winning print and radio journalist in the United Kingdom, Malaysia and Australia, and as a tutor in SouthEast Asian history and media and communications for the University of Melbourne and Monash University Malaysia. She holds a PhD in media history from the University of Melbourne, and an undergraduate degree in philosophy, politics and economics from the University of Oxford.
MC – Matt Wicking
An experienced facilitator, host and speaker, Matt works with progressive groups, helping them amplify their impact.
In a recent feature, '12 Australian Thinkers You Should Know About', Matt was described like this: "As a musician, writer, presenter and facilitator his gift is making complex ideas simple and beautiful. Matt does the deep thinking, rumination and exploration of these issues for us, so we get to benefit from his clarity and wisdom. An experience with Matt [is of a] master facilitator, an enthraller of crowds and an enchanting musician." (Wildwon, 2017)
Previous roles include: Lead Facilitator of the Centre for Sustainability Leadership Fellowship program; Greenie-in-Residence at Arts House; Comms Advisor at the Bureau of Meteorology; environmental educator with Monash Sustainable Development Institute; and many years as a sustainability consultant. His freelance practice is called Cloud Catcher.
Facilitation – Pru Gell
Leading social change organisations, government and boards bring Pru in to enable them to work through tensions and differences that are thwarting achieving their optimal impact. Pru is a highly sought after facilitator, conflict transformer and advisor on group dynamics and organisational change, with over fifteen years of experience. Knowing that people, groups, change making, ecosystems, and the time that we live in are incredibly complex, Pru uses and teaches processes, including Deep Democracy, to elicit deep wisdom in groups and enable them to take quantum leaps forward in understanding. Pru is a published writer and award-winning poet and speaker. She is the founder of Facilitators Declare a Climate Emergency. Pru lives on Wurundjeri and Wadawurrung Country with her partner, baby and four year old kinder climate striker.