Living Democracy: In Conversation with Tim Hollo, Blue Mountains Greens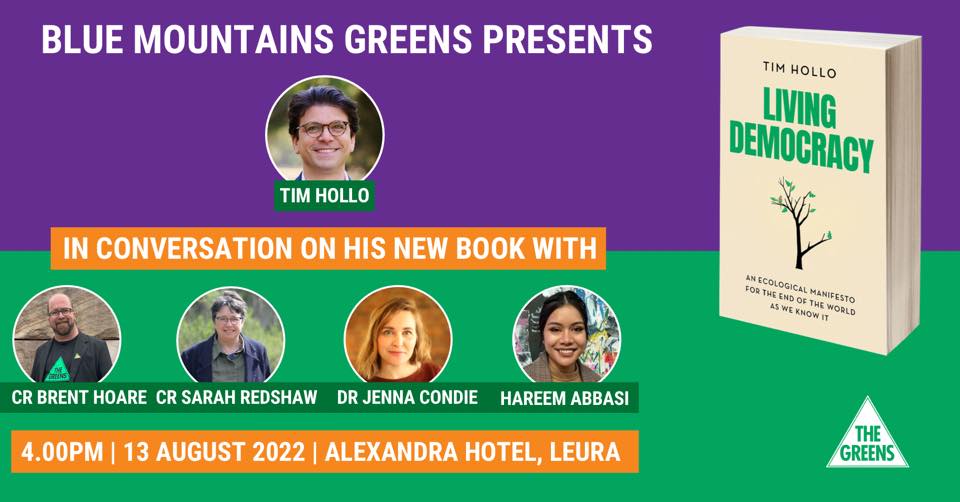 Hosted by Blue Mountains Greens.
Living Democracy: An ecological manifesto for the end of the world as we know it, is the new book from Tim Hollo, Executive Director of The Green Institute and former Greens candidate.
Join the Blue Mountains Greens in conversation with Tim to discuss the fact that while yes, the world looks bleak, what if the solutions to our ecological, social and political crises could all be found in the same approach? What if it was possible for us to not just survive, but thrive?
Tim offers bold ideas and a positive vision. It's the end of the world as we know it, but it doesn't have to be the end of the world. In fact, around the globe, people and communities are beginning an exciting new journey.
The book will inspire you. But before it does, come and be inspired by Tim himself.
Tim will be joined in conversation by local Greens councillors Brent Hoare and Sarah Redshaw, Dr Jenna Condie, local greens community activist (including co-lead of Australian Parents for Climate Action – Blue Mountains) and Hareem Abbasi, climate activist who works for Australian Youth Climate Coalition.
Please let us know if you are coming by registering here: https://greens.org.au/nsw/livingdemocracy
You will be able to purchase the book on the day, or pre-order here: https://www.greeninstitute.org.au/pre-order-book-offer/
The Alexandria Hotel has disability parking, accessible ramps, and accessible bathrooms. If you have other accessibility requirements, please let us know.