#TheirBudget, Our Lives – A Democratic Budget Reply In Action!
If there's anything better for the soul than a big group of people gathered together around a good meal, actively planning together how to build a better world, I've not experienced it.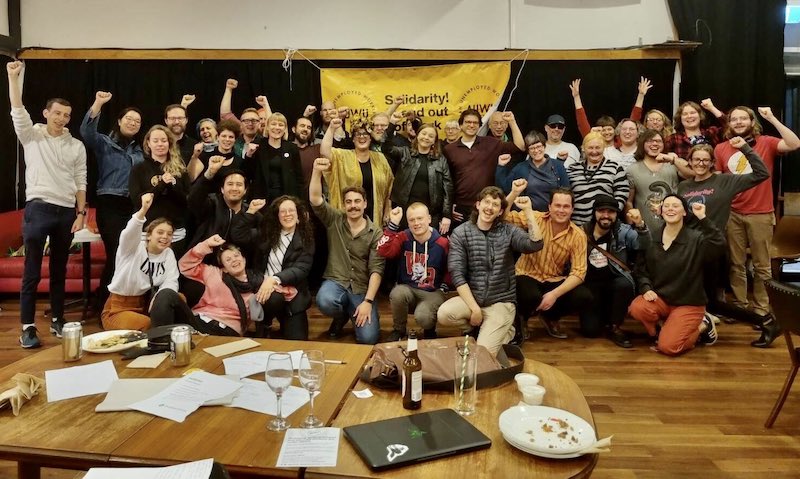 On the traditional Budget Reply night, Thursday of Budget week, The Green Institute partnered with The Australian Unemployed Workers Union (AUWU), the Antipoverty Centre, the Disability Justice Network, Vintage Reds, and the ACT Greens, to present Their Budget, Our Lives – a budget reply from people resisting poverty.
From the Institute's perspective, it was a fantastic combination of our justice work around Universal Basic Income and pushing back against punitive, surveillance-based conditional welfare, with our work on participatory democracy and mutual aid.
The intention of the event was to give people with lived experience of these punitive government policies the opportunity to talk about the impact on their lives to a thoughtful group of people and then sit down together to discuss what we can all do to respond – from mutual aid through to political activism.
And, of course, to give people a good meal and an enjoyable time – coz that's what democracy should be all about. 🙂 And it certainly was! It took quite an effort to send people home, with boxes of leftover pide, a full hour after we were scheduled to finish!
Kristin O'Connell, from the AUWU, opened the event with a heartfelt acknowledgement of country, noting that the dispossession and genocide that this country is built on plays out today, amongst other things, in racist policies like the Cashless Welfare Card and the Community Development Program, specifically targeting Indigenous communities with extra conditions, humiliations and forced labour.
In a Q&A with me, Kristin and Damiya Hayden, of the Antipoverty Centre, both of whom have lived experience, then led us through key elements of the Budget related to income support, disability support, housing, aged care, and more.
Kristin pointed out that the reason Josh Frydenberg was able to get away with painting this as "not an austerity Budget" is because he pre-announced the massive austerity – slashing income support back to below poverty levels, and reintroducing punitive "mutual obligations" – a month ago. She raised the serious dangers of work for the dole programs, and the way the increased delay to migrants being able to access support divides the community further.
Damiya pointed to the regressive nature of the tax system being made even more regressive by this Budget, for example by hiking tobacco taxes while continuing the diesel fuel rebate which sees mining corporations pay no tax on the fuel they use. She highlighted that the gap between private and public schools funding by the Commonwealth increased yet more, while there were more cuts to uni and TAFE funding. And she noted that staffing cuts to The Australian Institute of Health and Welfare and ASIC make it more difficult to advocate for and ensure better outcomes for workers.
Kristin called for an end to the Age of Independence test and the Partner Income test, both of which trap people in unsafe spaces, to the racist cashless cards, and to compulsory mutual obligations. And of course, she called for a lift to the rate of payments to above the Henderson poverty line.
Damiya went big picture and called for Treaty, a UBI, clear industrial policy to address the climate crisis and create jobs, free universal education and universal public housing.
We then heard from a wide range of speakers from university students to retirees, artist to economist, disabled to former public housing resident, all talking about their personal experience, how the Budget impacted them, and in many cases their powerful vision for a better politics.
You can watch the slightly grainy video of this first half of the event on the AUWU Facebook page.
After this powerful, moving and motivating session, we moved to the magic of participatory democracy! With eight tables of six to ten people, we plunged into conversations about where to from here.
The first half of the conversations focussed on mutual aid – what we can do together to make life better, without waiting for governments that clearly don't care to magically act. The room was quickly abuzz with energy and ideas.
People talked about things that already exist, like community pantries and cooking groups, tool-sharing groups and clothing swap parties, bike repair workshops and co-ops and community-run drop-in centres where people living on the streets can get showers and meals. And they talked about ideas that they want to pursue to take these further. Excitingly, people raised the crucial importance of social connection and cohesion – how doing things together is so much better than doing them alone.
One conversation explicitly discussed how the idea that living a decent life, with joy and connection, has to come second to "basic needs" like food and shelter is just completely false. Maslow was utterly wrong with his hierarchy of needs, but government policy sees his dark view imposed on the poor. Mutual aid needs to turn it around and embrace the fun with the basic support.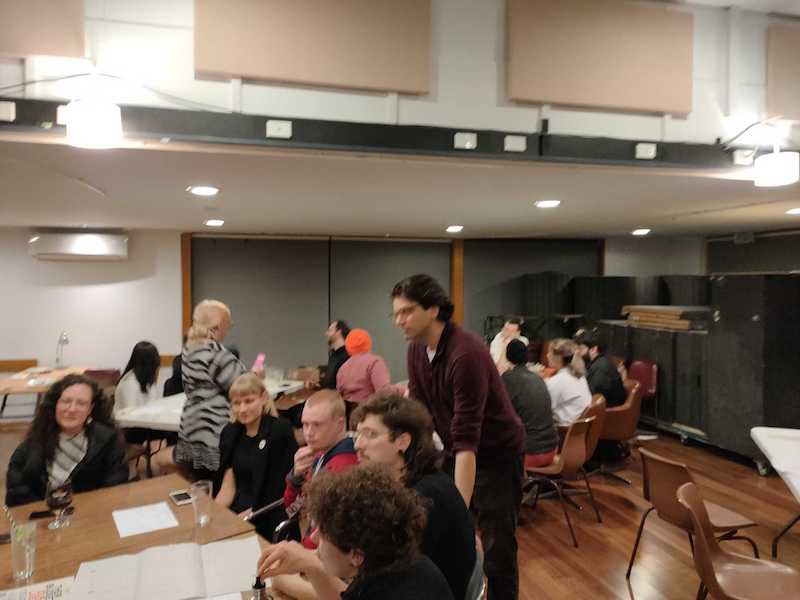 I felt terrible interrupting these animated conversations, but, after sharing a couple of ideas with the room, we shifted into how, working together, we can change politics. These discussions ranged far and wide across traditional activism and deep social change. I loved the idea to picket Job Service Providers, but instead of making it serious, make it a picnic and party – celebration, mutual aid, fun and activism all rolled into one!
As I said, and as almost always happens, once these discussions started, they were incredibly hard to draw to a close. Most people wanted to stay and keep talking well after the event was supposed to finish.
There's so much more to do in these spaces and beyond, and we have follow ups planned. But what it demonstrated to me, beyond all doubt, is that if we make democracy a living, breathing, practical exercise, we can take it back from the corporations who've bought it, and cultivate a greener, fairer, more just world for everyone!