Everything Is Connected: Community Action For The Climate Emergency
This challenging panel and workshop delved into the work being done at local council and community levels to face up to the climate emergency. Panel members were: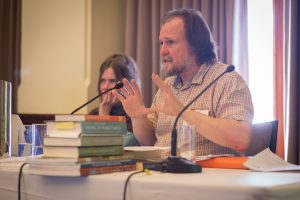 Bryony Edwards
In addition to working full time as a human service data analyst, Bryony campaigns for safe climate restoration through Community Action in the Climate Emergency, Save the Planet and by running as a climate emergency candidate.
Philip Sutton
Philip Sutton is the Manager and Strategist for RSTI and is currently leading RSTI's climate emergency program. He is co-founder of Safe Climate Australia and a past-President of the Sustainable Living Foundation and the Australia New Zealand Society for Ecological Economics.