From Grief To Possibility To Action: Join Our Virtual Book Club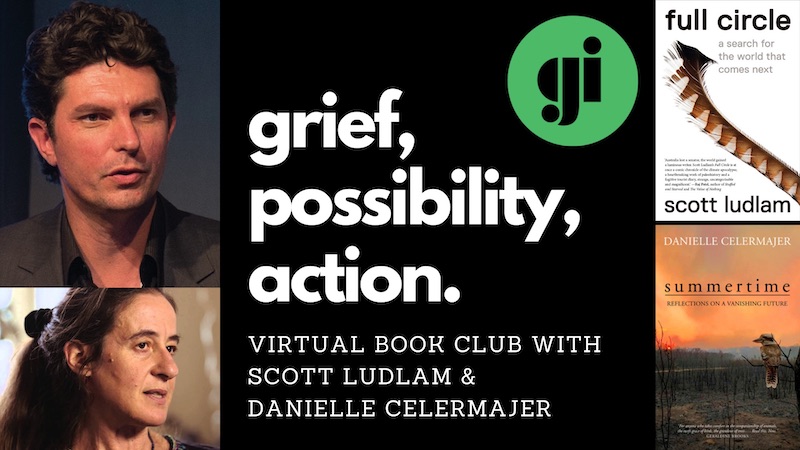 For everyone who was living anywhere near the gargantuan, climate-change-fuelled fires of 2019-20, or had any connection to the country that was burning, they left an indelible mark on our psyche.
Recently, as the autumn chill arrived in Canberra and the first hazard reduction burns took place in the nearby Brindabellas, I found myself struck by a moment of panic as the smoke wafted over the city.
In the last couple of months, I've read two excellent books that take those fires as their launching pad for powerful discussions of how to move from climate grief to action. I'm delighted to bring you a virtual bookclub with Scott Ludlam and Danielle Celermajer to discuss their books.
Former Greens Senator and ever-popular Institute guest and supporter Scott Ludlam and Professor Danielle Celermajer both faced the fires from terrifyingly close up. And their remarkable new books, Full Circle and Summertime, take them as the starting point for deep reflection on the past, the present and the future, and on how we are to live together, at one with each other and the natural world we are part of.
Register here for Grief => Possibility => Action – virtual bookclub, May 27
Professor Celermajer runs the Interspecies Justice Project at the Sydney Environment Institute, and her brief and beautiful book focusses primarily on how we humans can grapple with the immense loss of non-human life in the fires. Through deeply affecting stories of individual animals, as well as discussion of interdependence and interconnection, Dany challenges us to think deeply about our place in a world our species has irrevocably changed.
Scott combines his personal experiences during the fires with an extraordinary retelling of the history of life on Earth, interwoven with tales of activism and resistance all around the globe. Summarising Full Circle like that makes it sound impossible, and it's a remarkable achievement that this tour de force is a totally compelling read.
These are two of the most stimulating books I've read recently, and I'm delighted to be presenting this sort of virtual bookclub with the authors to discuss them. Don't miss it!
I hope to see you there.